Recently we had a chat with Jacks Sanchez about her love of makeup artistry. The busy Mum chats about why being a makeup artist rocks, why you don't need to have all the best equipment to start a youtube channel as well as sharing her favourite makeup must haves right now.
HOW LONG HAVE YOU BEEN A MAKEUP ARTIST AND HOW DID YOU GET YOUR START? 
I've been a MUA for nearly 9 years now. When I became a mother, I wanted a job where I could choose my hours, have a creative outlet, whilst still be a bad ass stay at home Mum! So I thought becoming a Makeup Artist was the perfect job for me, so I studied at The Napoleon Perdis Makeup Academy and 9 years later, I'm so happy I made that choice! Best decision I've ever made, and as the years went by, I slowly started to realise that my job was so much more than just applying makeup on people, much more deeper than the surface.
 YOUR YOUTUBE CHANNEL HAS OVER 13K FOLLOWERS, ANY ADVICE FOR READERS WHO ARE INTERESTED IN STARTING THEIR OWN?
 JUST. DO. IT! When I first started YouTube, initially I didn't want to create a channel without all of the expensive high tech cameras and professional lighting equipment, but I started to realise that those reasons were turning into excuses for NOT starting my channel! Putting yourself out there is never an easy thing to do! So one day, I woke up and said STUFF IT, let's do this YouTube thing. I used my husband's beat up old camera and started filming in front of my bedroom window. YouTube is such an amazing platform for the beauty community, wherever there is a negative comment there are hundreds more projecting love! Don't ever be afraid to put yourself out there, be sure in yourself and your passion! There is no limit to growth , concentrate on your artistry and everything else will into place!
 WHAT DO YOU LOVE MOST ABOUT BEING A MAKEUP ARTIST AND WHAT IS A HIGHLIGHT OF IT SO FAR?
When I first started makeup, I was doing it for all the wrong reasons. I never had a passion for makeup growing up (it's true, if you told any of my high school friends that Jacks grew up to be a MUA they'd laugh and say you were lying! HA!) The pinnacle moment in my career was when I had my first bridal booking, I finished the Bride's makeup, she looked at herself in the mirror, and started to cry. She was crying tears of happiness and joy, she thanked me and said, I've never looked more beautiful in my life. It was THAT very moment I realised makeup was more than just an exterior . It evoked emotion, just like art.
 IF YOU WEREN'T A MAKEUP ARTIST, WHAT ELSE WOULD YOU DO?
I would definitely be a singer/songwriter! Music has always been my one true love! Before makeup, I was studying my Bachelor Degree of Music at the Australian Institute Of Music and the whole music/gigging scene was my thing for years! (Fun fact : I can play the guitar, piano, drums!)
YOU'RE RUSHED AND NEED TO TURN A DAY LOOK INTO SOMETHING THAT WORKS FOR A NIGHT OUT, WHAT DO YOU DO?
Girl, you better pick up that Bold Lip & Heavy Mascara! I'm a Mum of 3 gorgeous (and crazy) children, so every day is rushed for me! Ha! A Bold Lip will instantly turn your Day look into a fun Night Look! A few extra coats of Mascara helps too!
 YOU ONLY HAVE 5 MINS TO DO YOUR MAKEUP, WHAT PRODUCTS DO YOU REACH FOR?
Anastasia Beverly Hills Brow Wiz, Tarte Tartiest Mascara, Garnier's BB Cream (+SPF), Chanel Soleil De Tan Cream Bronzer, Anastasia Beverly Hills 'Ashton' Liquid Lip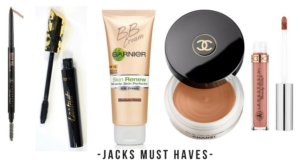 Jacks is freelance makeup artist located in Sydney specializing in Bridal, Formal and 1 on 1's. To see more of Jacks work or to book her for your special event visit her Instagram for contact details.