If you have ever experienced searching for your favourite nail polish only to find it having leaked and stuck to the bottom of your a) bathroom drawer b) shoe box where you keep them under the bed, then we don't need to stress the importance of investing in a storage piece that will keep your pretty polishes in tip top condition 'til the very last drop! Spending up to $19 for some polishes you really don't want to be wasting them due to poor storage. Below we have listed some of our popular storage options for your nail polishes. Whether you have a nice neat collection or all the colours of the rainbow, we have something for you!
Our Nail Polish Towers come in both the Original and Glamour Handle to match your Makeup Box.
Starting at $71 inc delivery within Australia.
Our Nail Polish Towers are also available for shipping to NZ, starting at $15AUD!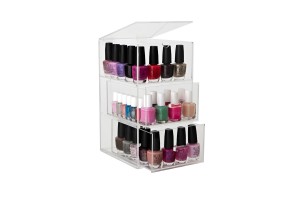 Our Large Glamour Drawer is a great piece for a bit of both, store some nail polish along with some bronzer, blush and lipstick. The glamour handle pops against the sleek black acrylic which offers a bit of privacy paired with a clear top to see exactly what is stored inside! This storage unit is also available for NZ shipping. RRP $43 inc free shipping within Australia.